In these steps, you will see how to add Hypervisors to get a deeper view of your environment.
The following details are required:
Type - The type of Hypervisor you are connecting to.

URL - Enter the full name (FQDN), hostname or IP address of the vSphere, Broker, or Virtual Host that you want to connect to.

Credentials - Use the drop-down to select or add a set of credentials that will be used for data collection from your infrastructure.

For more information on optimizing the performance of Hypervisor data collection see below.
If multiple colleagues are using ControlUp in your environment, ensure each of them uses the same credentials for the hypervisor connection/s you create. Once a hypervisor connection is configured, ControlUp expects to find an identical set of credentials on all machines on which an instance of the ControlUp Console or Monitor is used. This behavior is intended to ensure that only authorized users have access to hypervisor-related information and management actions. Therefore, it is recommended that you use a dedicated service account to connect ControlUp to your virtualization infrastructure.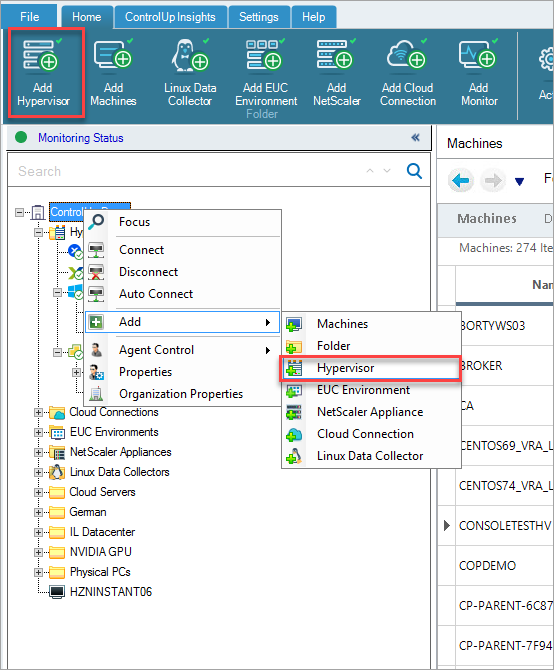 Configuring ControlUp Monitor for Hypervisors
After creating a Hypervisor connection, all ControlUp Monitor instances in your organization will start connecting to the site and retrieving data. In order to avoid conflicts between data collected from different sources, all ControlUp instances in your network are required to use the same credentials for Hypervisor data collection. It is therefore recommended that you create a service account with adequate permissions for your Hypervisor environment and save its credentials with all ControlUp instances on your network.
In order to ensure that the monitor is able to collect data from the Hypervisor environment, you need to ensure all monitor instances have the credentials you selected when creating the connection.
To ensure that, perform the following steps for each installed ControlUp Monitor instance:
Open the Hypervisor connection settings dialog by right-clicking the site connection in the folder tree and clicking Connection Settings.
Note the username configured for Hypervisor data collection.
Double-click a ControlUp monitor instance in the area below the organization tree.
Click the Monitored Resources tab and locate the Name of your Hypervisor environment.
If its status is Connected, your monitor is communicating with the Hypervisor. Otherwise, proceed to the next step.
Click Settings to open the ControlUp Monitor configuration wizard.
Click Add Credentials Set and provide the username, password and domain for the user account recorded in step 2 above.
Optimizing Hypervisor Data Collector Performance
The following step is optional but strongly recommended in order to ensure optimal performance of the Hypervisor connection.
By default, when you create a Hypervisor connection in ControlUp, all consoles and monitor instances in your organization will start connecting to it automatically in order to collect information. This may create unnecessary performance overhead, especially if multiple instances of ControlUp Console and Monitor are used in your network. It is a best practice to designate one or more computers in your ControlUp organization to act as dedicated collectors for Hypervisor data.
To configure dedicated data collectors, open the Hypervisor connection settings dialog, expand the Data Collectors panel and click the Add.. button to select a computer in your ControlUp organization to add as a dedicated data collector for Hypervisor. The following guidelines will help you select an optimal data collector:
1GB of available RAM
Uninterrupted connectivity to the Hypervisor environment
Always on (except for planned maintenance/reboot windows)
---
Was this article helpful?
---
What's Next