Citrix Cloud Configuration
Citrix Cloud Configuration
---
Citrix Cloud integration is available for ControlUp 8.2 and up, allowing users to monitor Citrix resources over the cloud, from the cloud connector to your apps and desktops.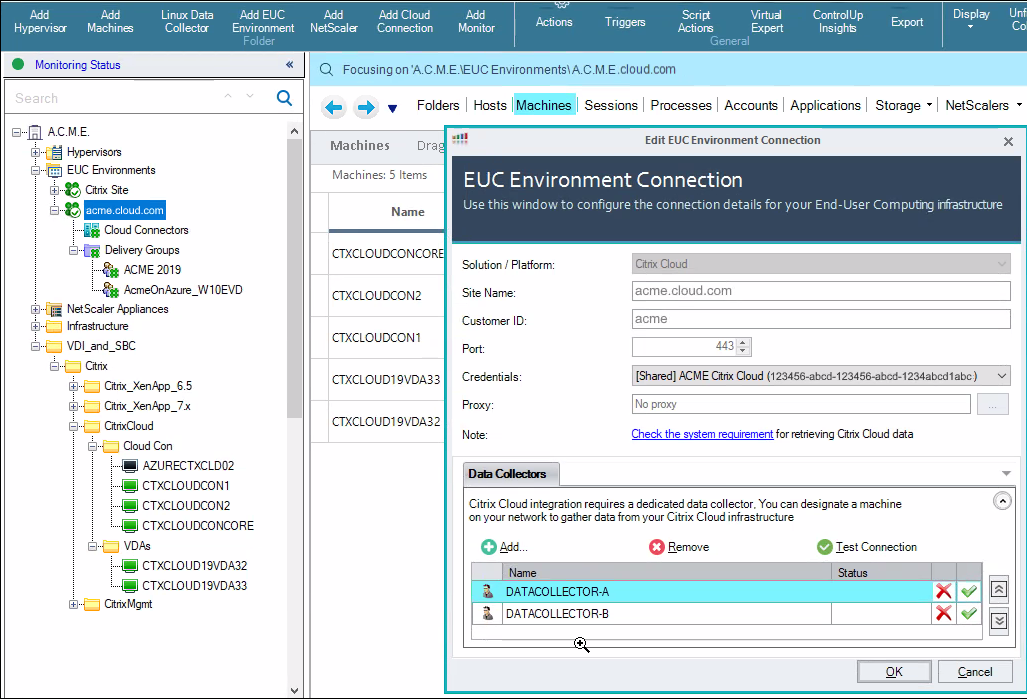 This article describes how to add your Citrix Cloud infrastructure to your ControlUp organization.
Monitoring Cloud Connectors
From the ControlUp Console, you can view all of your cloud connectors, from any resource location.
Along with the common ControlUp metrics for any machine, you can get other useful information, specific to Citrix Cloud connectors, including:
Cloud Connector Status notifies you if your Citrix cloud connector is connected to the Citrix Cloud back-end successfully, and/or if there are any network, firewall, or credentials issues.
Cloud Connector Version checks if your Cloud Connector version matches the latest cloud connector version from the Citrix API and will let you know if it's updated or not.
Cloud Connector Maintenance Mode notifies you if your cloud connector is in maintenance mode.
Cloud Connector Type indicates whether your cloud connector is a Windows machine or appliance.
Cloud Connector Version and Expected Version will show you the current version of your cloud connector, and the latest version available from Citrix.
Note:
Each of the displayed columns also works as a counter and can have triggers applied to them to enable you to immediately notify you of any changes.
It is recommended to Install a ControlUp agent onto your cloud connectors to get the most detailed monitoring information.
Citrix Cloud Credentials
Your Citrix Cloud credentials must be added to the Credentials Store in the ControlUp Console.
You need your Citrix Cloud credentials before you begin to add them to ControlUp. You can learn how to create an API client and get your Citrix Cloud credentials here.
It is best practice to have a monitor and leverage the credentials store on the monitor for the credentials used in the integration. This way those credentials are shared and you don't have to create separate credentials for each connection.
To add your Citrix Cloud credentials:
From the Settings screen, click Monitors, and the Manage ControlUp Monitors screen appears.
Click Monitor Settings and the Sights and Monitors - Configuration Wizard screen appears.
Click Add Cloud Credentials and the Add New Cloud Credentials popup appears.
In the displayed fields, enter the following:

Access Key - Enter the Citrix Cloud API ID you created.
Secret Key - Enter the Secret Key for the ID you created in Citrix Cloud.
Friendly Name - Enter a useful name that the credential will be referred to.

Click OK, and the new credential is added to the credential store.
Integration to ControlUp
Add EUC Connection
Click Add EUC Environment f rom the Home ribbon in the ControlUp Console, and the Add EUC Environment Connection popup appears.

In the Add EUC Environment Connection popup, the displayed fields should be filled as follows:

Solution / Platform: Select Citrix Cloud from the drop-down menu.
Site Name: As stated in the text box, no action is needed and will be automatically populated.
Customer ID: Your customer ID as listed in citrix.cloud.com
Port: 443 (The default communication port.)
Credentials: Your Citrix Cloud credentials created on the monitor (see above) or create them here as a temporary solution. If created here, they may not be shared credentials.
Proxy: Configure a proxy connection to access the cloud, if necessary.
Data Collector: ControlUp data collector is mandatory for Citrix Cloud integration.

Add a data collector by clicking the Data Collectors tab, and the Add Data Collection Agent popup appears.

Click the data collector you want to add and click OK , and you are returned to the EUC Environment Connection popup with the chosen data collector(s) appearing in the Data Collectors section.
Note
You can select multiple data collectors by pressing shift and clicking the data collectors.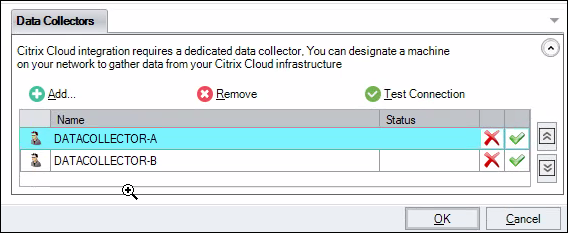 Optional: You can test the data collector's connection by clicking Test Connection.
Once all the information has been entered, click OK, and the Citrix Cloud connection is added and appears in the EUC Environment folder of the organizational tree.
Whitelist URLs
Prior to version 8.5.1, the ControlUp Agent, which is configured as the Data Collector for the Citrix Cloud connection, will access the following URLs via 443/HTTPS:
https:// [ CustomerID ] .xendesktop.net/citrix/orchestration/api/v1
https:// [ CustomerID ] .xendesktop.net/citrix/monitor/odata/v4
https://registry.citrixworkspacesapi.net/ [ CustomerID ] /ResourceLocations
https://agenthub.citrixworkspacesapi.net/ [ CustomerID ] /EdgeServers
https:// trust.citrixworkspaceapi.net
If you use a whitelist for controlling the connections to the ControlUp Agent, you should add these URLs to that list. For details on securing your agents generally, see ControlUp Agent Security Best Practices.
Notes:
The Data Collector agent is running as a system account (instead of a user account), which some proxy solutions may have an issue with.
Around July 2021, Citrix is going to change the Citrix Monitor Service OData API ( CTX312284 KB ) and this will require a code change in the ControlUp product. That change will be part of ControlUp version 8.5.1. and above.
For more information, contact support@controlup.com
---
Was this article helpful?
---
What's Next