Edge DX Agent Distribution and Installation for IGEL OS
Edge DX Agent Distribution and Installation for IGEL OS
---
See Edge DX Agent Distribution and Installation for general information regarding Edge DX agent distribution and installation.
Click the arrow

to the right of IGEL OS Agent on the Downloads page to display information about the installation options for IGEL OS.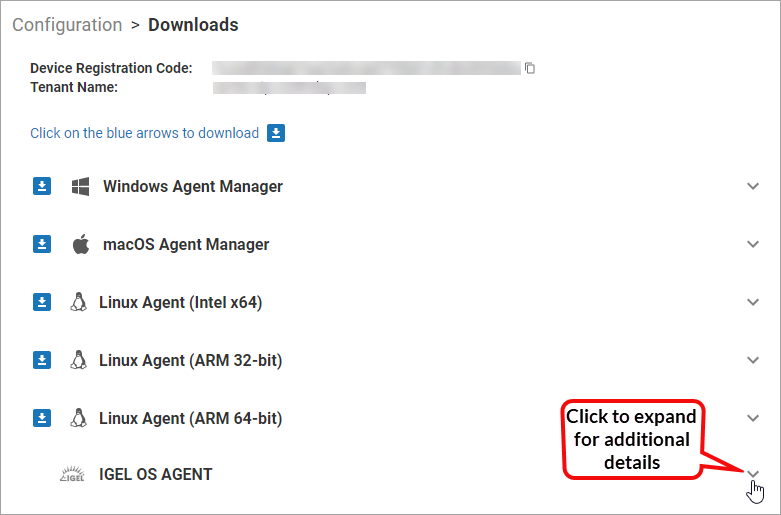 Supported versions of IGEL OS for Edge DX Agent Installation
The following versions of IGEL OS are supported for installation of Edge DX:
Install the Edge DX Agent for IGEL OS
To install the Edge DX agent on your IGEL OS device:
Create the custom partition: In the IGEL Universal Management Suite, go to:
Setup > System > Firmware Customization > Custom Partition > Partition
Enable the custom partition. Give it a size of at least 100MB and make note of the mount point (e.g. /custom).
Once the custom partition is enabled, add the ControlUp agent as a downloaded package:
Setup > System > Firmware Customization > Custom Partition > Download
When adding the package, use the following information:

URL: https://downloads.sip.controlup.com/igel.inf
Initial Action*:

/custom/controlup-cpe-agent/start.sh <tenant name>.sip.controlup.com <your device registration code>


Automatic Update: Enable this if you want the agent be updated as new versions are released.
Note
If you changed the custom partition mount point when enabling it, adjust the Initial Action command with the appropriate mount point.
---
Was this article helpful?
---
What's Next