Share feedback
Thanks for sharing your feedback!
Tech Preview
This feature is currently available as a Tech Preview. We invite you to try the Enrich extension, but please note that some features might not work correctly.
Use the ControlUp Enrich browser extension to integrate ControlUp's physical endpoint monitoring and remediation features (Edge DX) into other SaaS applications.
When you are viewing a device with the Edge DX Agent installed from another SaaS application, you can open the ControlUp Enrich overlay. The overlay lets you see device data from ControlUp Edge DX and perform remediative actions on the device without leaving the SaaS application.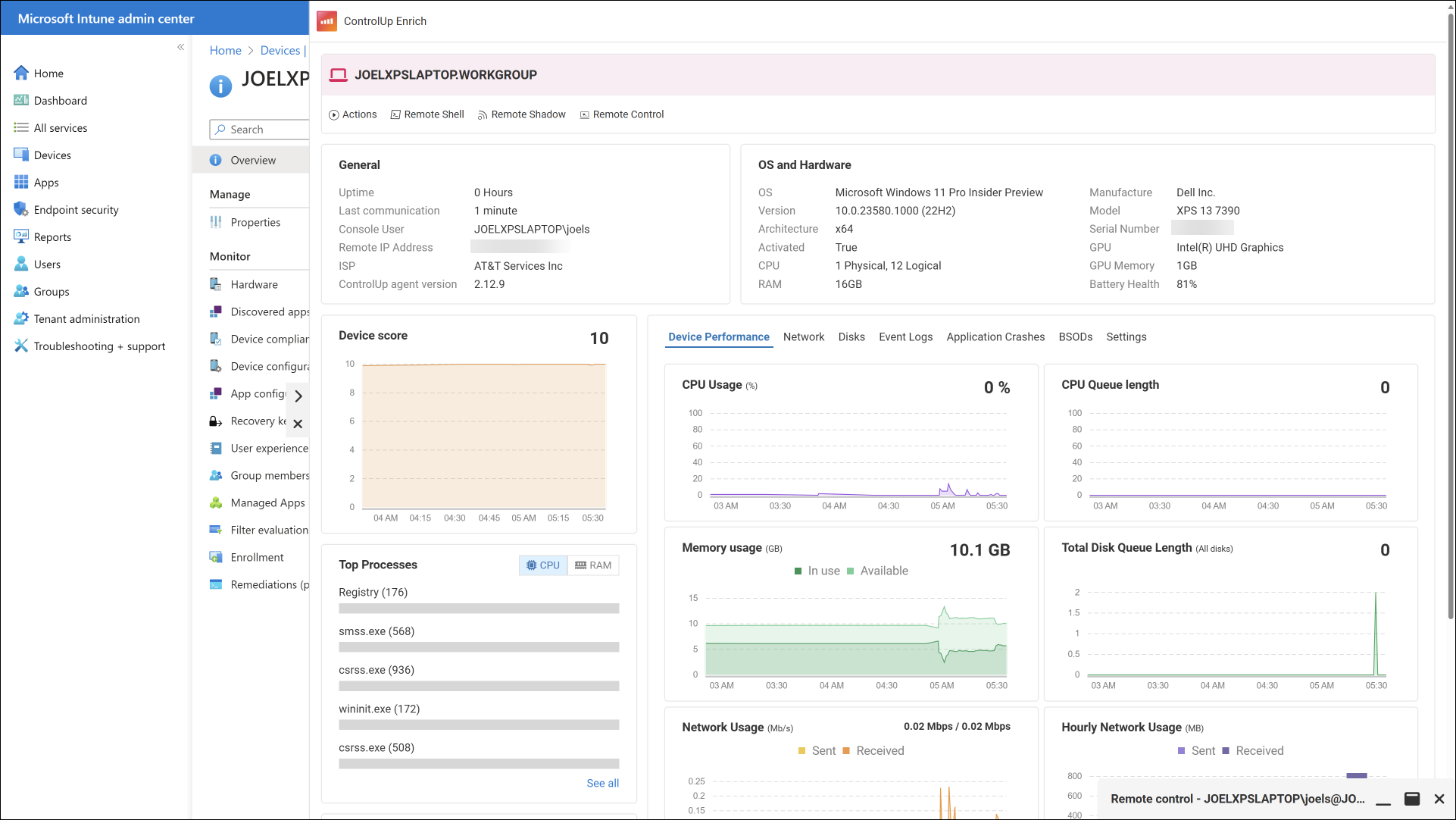 From the ControlUp Enrich overlay, you can:
Perform actions on the device, including custom scripts that you have added to Edge DX.
Start a Remote Control or Remote Shadow session.
Open a Remote Shell to access the device's command-line.
See which processes are consuming the most resources. You can kill a process directly from the Enrich overlay.
See details about the device's network connection, including WiFi signal strength, latency, and network usage.
See real-time and historical performance metrics such as CPU and RAM usage.
See events recorded in the Windows Event Log.
See Blue Screen Errors (BSODs) that have occured on the device.
See application crashes.
See OS and hardware information.
See the device's storage drives.
Supported browsers
You can install ControlUp Enrich on the following browsers:
Microsoft Edge
Google Chrome
Supported SaaS applications
You can open ControlUp Enrich when using the following SaaS applications:
Microsoft Intune
ServiceNow
ServiceNow integration required
Prerequisites
Install the plugin
To install the extension, download the ControlUp Enrich extension from the Microsoft Edge or Google Chrome extenstion store.

Confirm that the extension is installed and activated on your browser.

Open ControlUp Enrich from a supported SaaS application
To use ControlUp Enrich:
Click on the ControlUp icon on the right side of the screen when you are using a supported application.

In Microsoft Intune, you can open the Enrich overlay when you are viewing a device:


In ServiceNow, you can open the Enrich overlay when you are viewing a ticket that was automatically created by the Edge DX integration with ServiceNow:

If you aren't already signed in to ControlUp on your browser, click Log in to ControlUp to redirect to app.controlup.com and sign in to your organization. After signing in, return to the Enrich overlay and click Try again.


Click on the arrow to expand the overlay and see more information about the device.


After expanding the overlay, you can use all features in ControlUp Enrich.

---
Was this article helpful?
---
What's Next