How to Create an Incident Trigger with Stress Levels
How to Create an Incident Trigger with Stress Levels
---
Share feedback
Thanks for sharing your feedback!
The following article walks you through the steps to define an Incident Trigger with Stress Levels. This example creates an alert when the system drive is below 2000 MB.
Create an Incident Trigger
To create a specific trigger, you must first define the Stress Level Settings as needed.
1. From the Settings menu, open Stress Level Settings > Free Space on System Drive and define the counter as follows:
Red: 2000 (MB). If disk space falls below 2000 MB, the Stress Level will display in red.
Load: 2. Loads determine Stress Levels. The stress is the sum total of all Loads that have met the threshold conditions.
The following example shows that the stress level will be medium if the Free Space on System Drive counter meets the 2000 MB threshold: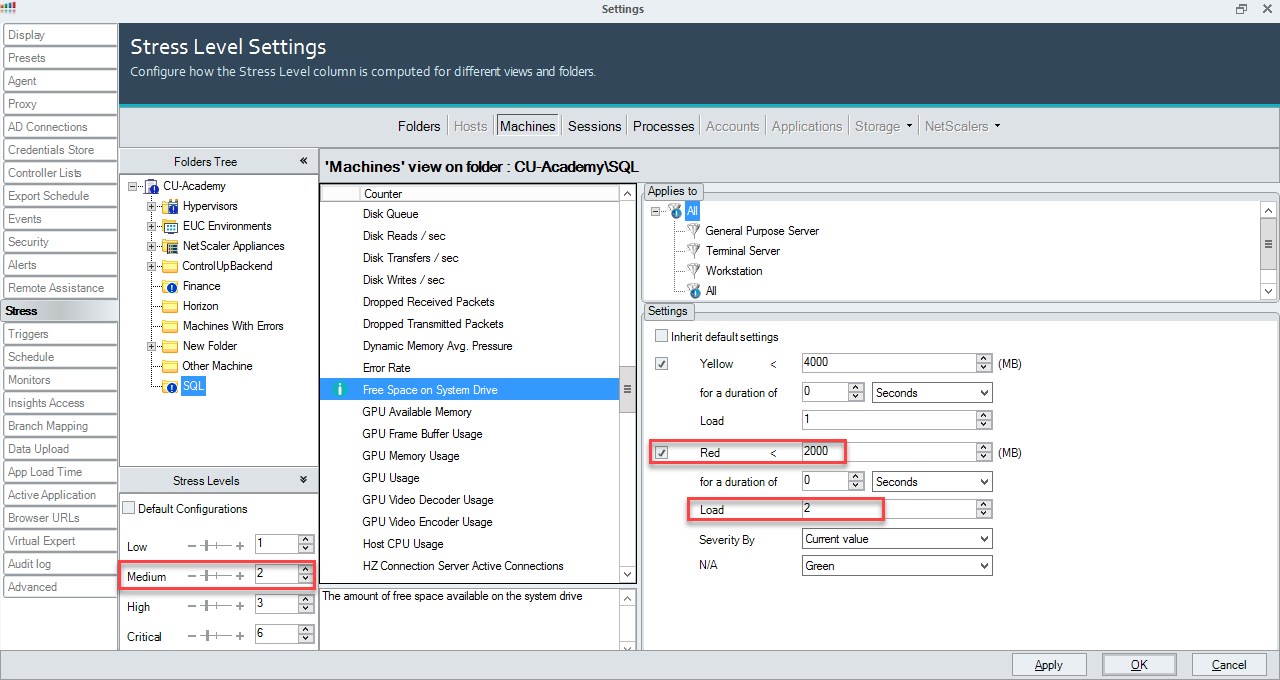 In order to receive a notification when Free Space in System Drive equals or below 2000MB, you must create a relevant Incident Trigger.
2. Click Triggers and click Add Trigger.
3. Select the Stress Level trigger type and click Next.
4. Define the Trigger as follows:
Record Type: Machine.
Stress Level: Medium.
Duration: 3 Seconds.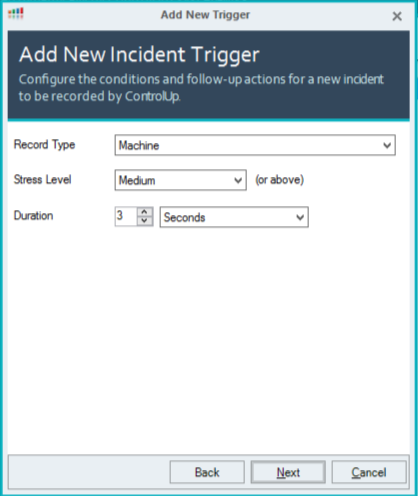 In Stress Settings, you defined that if the free space is less than 2000 MB, the Stress Level will reach Medium. This is why you choose that if the Stress Level reaches Medium, it will fire the Incident Trigger.
5. Click Filter editor.
6. In the Filter Editor, from the New Item list, select Free Space on the System Drive, and verify that the argument meets the alert requirement if the free space is equal or less than 2000 MB. Click OK.
7. Select CU-Academy (ControlUp Organization) as the Scope and All days as the Schedule. Click Next.
The following example shows that all machines in the child folders under the ControlUp Organization are included in the trigger: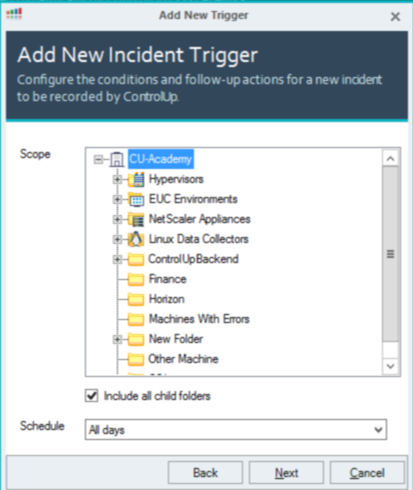 8. Click Add and select Send an e-mail alert as the follow-up action. Select organization users as needed to receive the alert and click OK.
9. Select how long the trigger will wait before it repeats the action. Click Next.
10. Click Finish.
You created an Incident Trigger that collects Stress Level data as incidents to alert the selected users. You can view incident details in the Incidents pane and Historical Reports.
For more information about Stress Levels and Incident Triggers, see Stress Settings and Create an Incident Trigger.
---
Was this article helpful?
---
What's Next