Share feedback
Thanks for sharing your feedback!
Changing the Time Zone
When you log into ControlUp Insights for the first time, you are prompted to select your time zone. The time zone you select remains in force for your user account from then on, unless you manually change it, as explained below.
Note
Changing your time zone only affects the display you see when you are logged into ControlUp. Scheduled actions, like periodic data collection, continue to take place at the times at which they were previously scheduled to occur. In addition, if data is exported to CSV files, the times always appear in those files in UTC.
To change your time zone:
In the Insights screen, in the upper-right corner, select your user name. A dropdown menu opens.

Select your user name to open the dropdown menu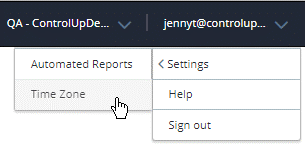 Dropdown menu open
In the menu, select Settings , and then select Time Zone . The Time Zone Settings dialog box opens, with the current time zone shown under Time zone .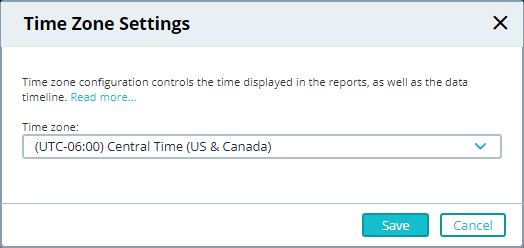 Time Zone Settings dialog box, with the current time zone shown
Select the Time zone A dropdown list of time zones opens.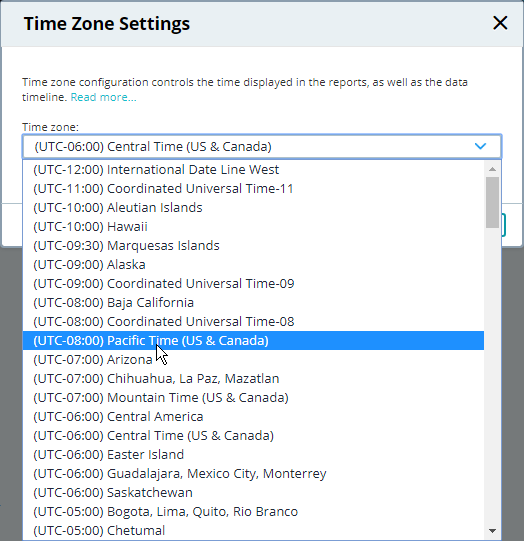 Dropdown list of time zones
In the dropdown list, select the new time zone.
Select Save. The selected time zone is implemented.
Note
Implementation may not be immediate, because Insights does not necessarily update the data in its cache at the moment the time zone is changed. In most cases, Insights caches data for five minutes, so the time-zone change should be evident within five minutes. However, the "Environment Assessment" report has a five-hour cache, so a time-zone change may take up to five hours to be implemented in that report.
---
Was this article helpful?
---
What's Next