Share feedback
Thanks for sharing your feedback!
Creating a Scout uses credits. If you disable or delete a Scout, then the credits used by the Scout are returned to your account.
To see how many credits you are using and have available, click on your profile at the top-right of the page, and select License.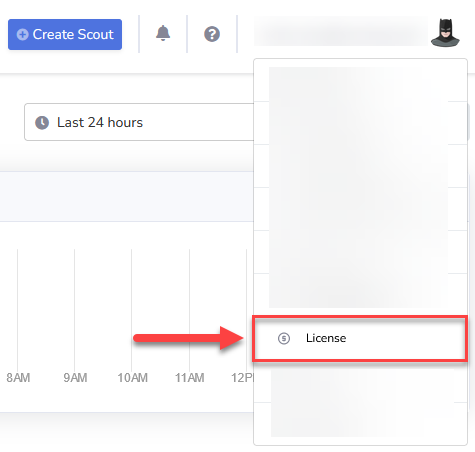 How do I get Credits?
You can purchase credit packages by contacting sales.
Activate Scoutbees for ControlUp Ultimate Customers
If you have purchased ControlUp Ultimate, then your license includes an activation key to use Scoutbees.
To activate your Scoutbees license:
Log into your Scoutbees organization.
Click on your profile at the top-right of the page, and select License.
Click Apply Activation Key and enter your Scoutbees activation key.

How Many Credits do I Need?
The number of credits that you need depends on:
How many resources you want to test (the number of Scouts).
The type of resources that you want to test (EUC, Infrastructure, or Application).
How many locations (hives) you want to test the resources from.
Scouts use the following number of credits:
| Scout Type | Credits |
| --- | --- |
| EUC | 1000 |
| Infrastructure | 200 |
| Application | 1000 |
For Infrastructure and Application Scouts, you can set the Scout to run from multiple Hives. This uses the same number of credits as creating unique Scouts for each Hive. For example, an Infrastructure Scout running from 3 Hives uses 600 credits (3x200).
---
Was this article helpful?
---
What's Next