Service Level Agreement and Support Definitions
Service Level Agreement and Support Definitions
---
Share feedback
Thanks for sharing your feedback!
ControlUp Support aims to provide our customers the best service with our global support centers. These centers are staffed around the clock with highly trained professionals to provide ongoing support, regardless of your geographical location.
Severity Level Definitions
ControlUp Support prioritizes its actions for a submitted service request based on an assessment of the impact of the issue on the customer's operations.
Each ticket is prioritized according to these guidelines:
1 - Urgent

Production server or other mission critical system is down and no workaround is immediately available.

All or a substantial portion of end user's mission critical data is at a significant risk of loss or corruption.

End user is experiencing a substantial loss of service.

End user's business operations have been severely disrupted.

2 - High

Major functionality is severely impaired.

Operations can continue in a restricted fashion, although long-term productivity might be adversely effected or a major end user milestone is at risk.

Ongoing and incremental installations are affected.

A temporary workaround is available.

3 - Normal

Partial, non-critical loss of functionality of the software.

Impaired operations of some components, but allows the end user to continue using the software.

Initial installation milestones are at minimal risk.

4 - Low

General usage questions.

Cosmetic issues, including errors in the documentation
Support Plans & Response Time
Depending on your support plan as defined in your contract with us plus the severity level of the request, we provide our initial response time based on this table:
Support Plan

Severity Level (as defined above)

Initial Response Time

Ultimate / Platinum customers with 1,000 or more ControlUp licenses

1 - Urgent

2 Hours,

24 hours a day,

7 days a week

2 - High

4 Business Hours

3 - Normal

4 Business Hours

4 - Low

8 Business Hours

Enterprise customers OR Platinum customers with fewer than 1,000 ControlUp licenses

1 - Urgent

4 Business Hours

2 - High

4 Business Hours

3 - Normal

8 Business Hours

4 - Low

12 Business Hours

Pro customers

1 - Urgent

4 Business Hours

2 - High

8 Business Hours

3 - Normal

8 Business Hours

4 - Low

12 Business Hours
Business Hours are defined as 06:00 - 00:00 UTC, Monday - Friday.
Customer Care
A Support SLA is performed and monitored according to a specific flow that includes verification and escalation management via CRM software. This insures efficient implementation of the Support SLA timeline.
ControlUp customers are responsible for reporting issues and determining their priority. Customers can submit issues via the following:
| | |
| --- | --- |
| ControlUp website | Support page > Submit a Ticket (preferred method) |
| ControlUp application console | Under the Help tab |
| ControlUp email | [email protected] |
To enable us to track Urgent priority tickets against our SLA, do the following:
When opening a ticket from the website, select Urgent as the priority.
When sending an email to support, write Severity1 as the subject of the email.
ControlUp's support team receives the service request (SR) and communicates with ControlUp customers on its status. The handling of the service request is according to ControlUp's internal support procedure.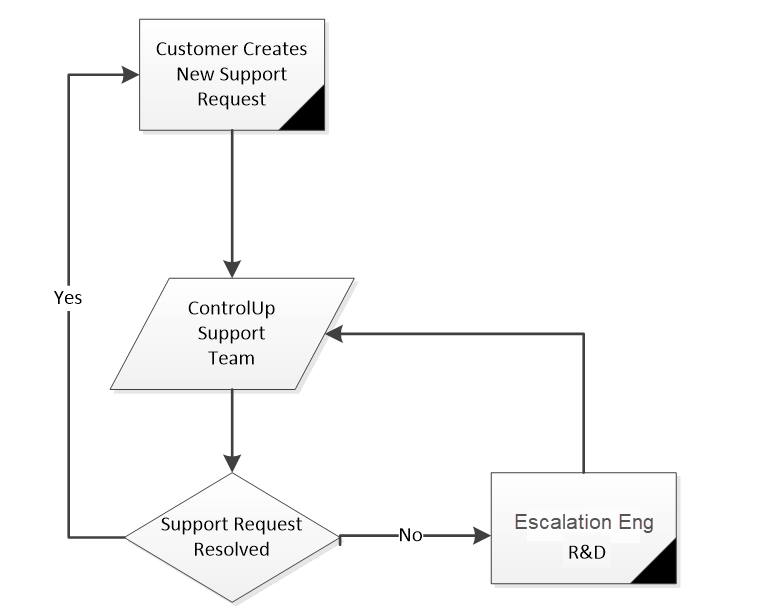 Support Response
Our support team responds to all requests via email and occasionally via remote screen-sharing sessions.
---
Was this article helpful?
---
What's Next