In this article, we go through the main components of the user interface of the ControlUp Real-Time Console: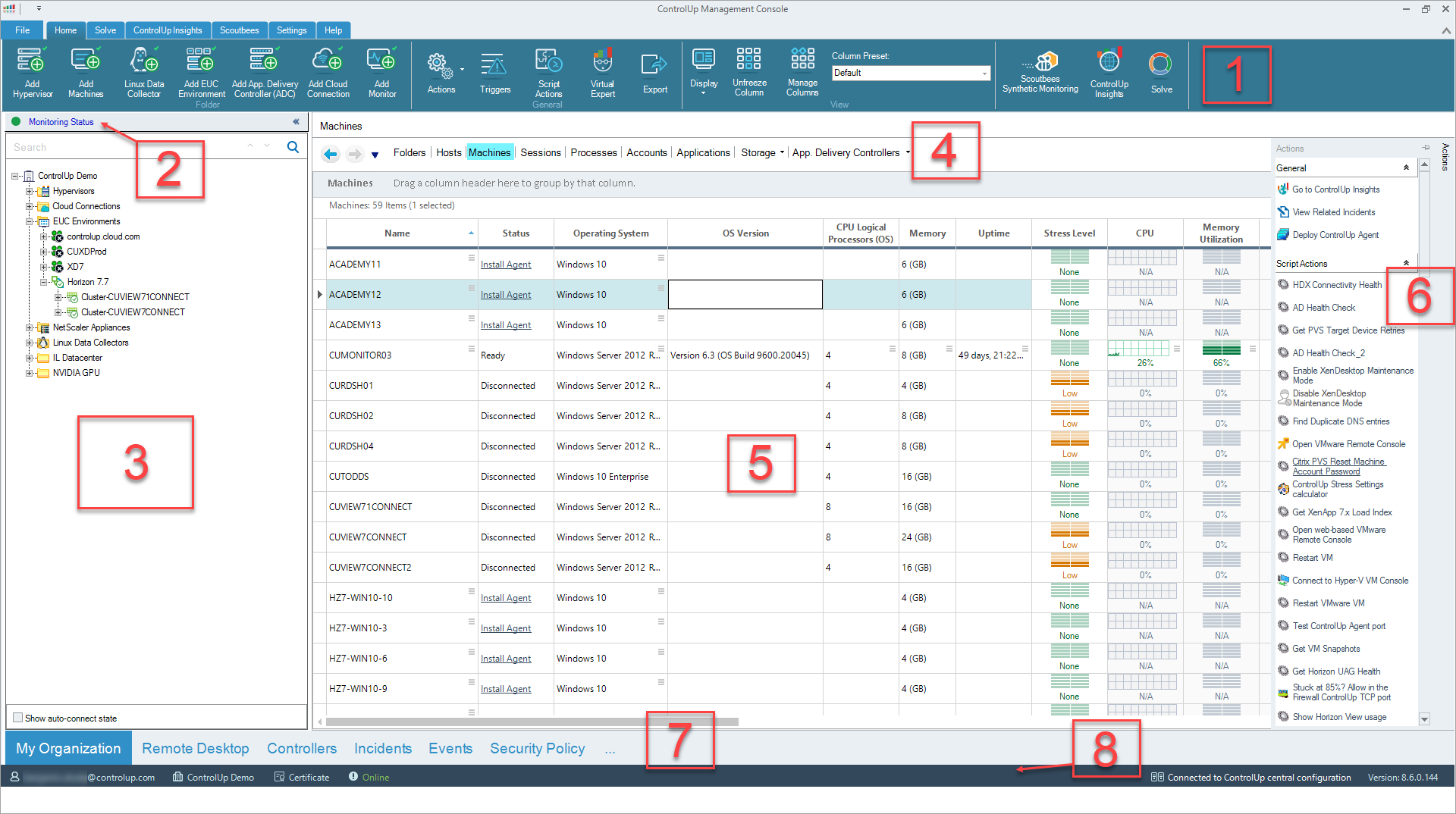 [1] Ribbons
File Menu
Click the File tab to open the File menu, which includes the following options: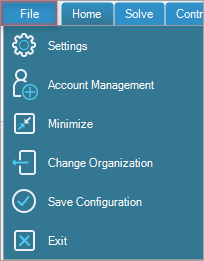 Settings
Click Settings to open the Display Settings dialog box.
Account Management
Click Account Management to open the User Profile dialog box where you can manage common account information such as email address, name, or mobile phone number. Here, you can also manage your mobile devices and enable/disable email alerts.
Minimize
Click Minimize to switch to tray mode, during which the main window is hidden. System tray bubble notifications may still be displayed, according to your settings.
Change Organization
This signs your user out from the current ControlUp session and switches to the Select a ControlUp organization screen.
Save Configuration
Immediately saves the configuration. Especially useful for customers who work in offline/standalone mode and need to commit changes to the configuration before exiting the Real-Time Console.
Exit
Terminates your current ControlUp session and closes the application.
Home Ribbon
Here you will find a set of ribbons which include all the actions you will need when working with ControlUp. The buttons on the Home ribbon vary according to the current view and selected objects, while the Settings ribbon and the Help ribbon remain static regardless of the current view.
Solve Ribbon
Lets you open the Solve web interface, configure user permissions and ControlUp Monitors.


ControlUp Insights Ribbon
In the Insights ribbon, you can open Insights and configure settings necessary for working with Insights.


Scoutbees Ribbon
From here you can open the Scoutbees web interface.


Settings Ribbon
Displays many different settings such as Agent Settings, the Credentials Store, Triggers and many more.


Help Ribbon
Includes various help options.


[2] Monitor Panel
In this area you will see the status of all installed instances of your ControlUp Monitor services in your organization. For more information on the ControlUp Monitor refer to ControlUp Monitor.
[3] Organization Tree
A graphical display of all the computers currently added to the console, arranged in folders. There are two methods for managing the tree: right-clicking computers or folders, or by using the Folder area of the Home Ribbon.
In Enterprise Mode, your tree is shared with other ControlUp users on your team so that all changes made to the tree are replicated automatically between all team members with appropriate permissions.
For more information regarding ControlUp's permission delegation capabilities, refer to the Security Policy Pane chapter.
In Standalone Mode, every ControlUp user manages a separate Folder Tree which is stored in XML format in the %appdata%ControlUp folder of the user profile. These settings can be copied between users but cannot be synchronized automatically. Your stored passwords are stored in an encrypted form and will not be accessible to any other user, even if you copy this folder.
[4] Navigation Bar
Here you can switch between views, navigate between the recently visited views, and enter search queries for the Information Grid.
[5] Real-Time Grid
The main information display area of the console. This high-performance component can quickly display, sort, group, and filter real time information collected from the managed computers.
[6] Actions Panel
Here you can find all available actions for the objects you selected in the information grid. It will display the same actions as if you would right-click the machine.
[7] Panes
By selecting a pane from the bottom left menu, you can switch between ControlUp's different functional areas.
[8] Status Bar
The status bar is a dynamic display that includes the following information regarding your current ControlUp session:
User Name – your current ControlUp username which you provided when signing in, or a shortened unique derivative of your email address, which can be used for login
Organization Name – the name of your current ControlUp organization
Agent Certificate - Indicates if a certificate for the communication with ControlUp Agents is used
Status – the following values are possible:

Online – you are signed in using ControlUp Hybrid Cloud
Offline – you are signed in using an Offline License File
Logging in – displayed briefly following login if "Save Password" is enabled

Central Configuration connection status:

Connected – Indicates an active connection to the ControlUp Hybrid Cloud.
Connected (with errors) – displayed when some of the changes could not be committed to the ControlUp Hybrid Cloud.
Disconnected – in Offline Mode, or when communications with Cloud Configuration Servers are disrupted.
---
Was this article helpful?
---
What's Next