Solve can show you a lot of different data about your EUC stack, which can sometimes make it difficult to find the data you are looking for.
Presets let you quickly switch views so that you can see the information most relevant to your situation. There are out-of-the-box presets depending on which context you are in, as well as custom presents you design.
For a custom preset, you can choose which columns to display, the order of the columns, and which filters to apply. Presets are available for the real-time grid on the Discovery page, and the session activity report on the Historical Reports page.
Using Presets
Solve has default presets which are configured to show relevant columns for common scenarios. The current preset is indicated at the top right of the grid or report. Click this icon to change the preset.


On the real-time grid, there is a Default preset which is unique for each topology layer. The session activity report has three out of the box presets to choose from depending on the type of information you need.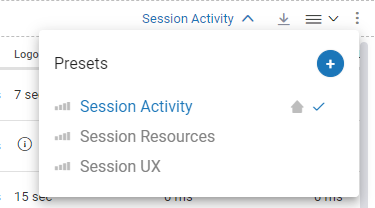 Create and Customize a Preset
From the resets window at the top right of the real-time grid or historical report, click the plus button and enter a name for the new preset.

Press enter, and your view is switched to your new preset. The name of the currently selected preset is displayed in the Presets icon. You should see the name of your new preset.

Customize your new preset by changing the columns.

Click on the column picker button at the top right of the real-time grid or historical report.


The left side of the window shows all of the available columns. The right side shows the currently displayed columns. You can add and remove columns to the list of displayed columns, and rearrange the order that they appear. Confirm that you are making changes to the correct preset at the top of the window.


For example, you might want to use this preset for CPU-related data in the real-time grid. You can search for the relevant columns.


Add filters to your new preset. For example, you might want to use this preset to see only machines with a CPU utilization greater than 50%.

You can now use your new preset to quickly see exactly the data you need.
Important: Presets Auto-Save
Presets auto-save any changes you make while the preset is selected. If you change columns or filters while viewing a certain preset, then the preset is updated with the changes you made.
---
Was this article helpful?
---
What's Next