ControlUp enhances your monitoring and troubleshooting toolset by monitoring of vSAN-based datastores. In VMware vSphere environments, vSANs are becoming more and more popular. ControlUp leverages vSAN's API to gather vSAN metadata and metrics, enabling for fine-grained visibility into the configuration and activity of your vSAN infrastructure.
For vSphere hypervisor connections that contain a vSAN configuration, ControlUp will seamlessly detect vSAN objects and display related metrics in Datastores, Datastores on Hosts and Folders views. Using ControlUp to monitor vSAN, you will be able to troubleshoot all the way from datastore level, through virtual disks and into the guest VM activity to pinpoint the workloads (users or applications) involved.
Getting Started with vSAN
vSAN information will be displayed automatically if you already have a vSphere connection, along with the prerequisites listed below: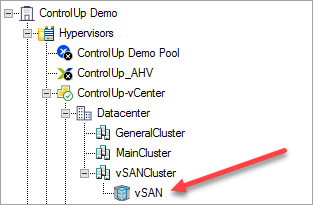 System Requirements for the Data Collector
PowerShell Version 5.0, with activated RemoteSigned execution policy
VMware PowerCLI 10.1.1 or higher
.NET framework 4.5
vSAN Requirements
vSAN Performance service must be turned on.
The user account configured for the hypervisor connection requires the "storage.View" permission.
Special characters are not supported for the account password (characters like $ and @).
Note
By default, data collection is performed by the console. If you have installed monitors or data collectors in a different location (recommended for large environments), these prerequisites should apply to them as well.
---
Was this article helpful?
---
What's Next