Hybrid Cloud Architecture and Components
Hybrid Cloud Architecture and Components
---
Share feedback
Thanks for sharing your feedback!
Welcome to ControlUp! This guide gets you up and running with the latest version of the ControlUp Hybrid Cloud environment and links to the articles you'll need to get set up.
Architecture Diagram
Before the installation, you should be familiar with the different components and their functionalities. Read below for more details on the components and how to install them.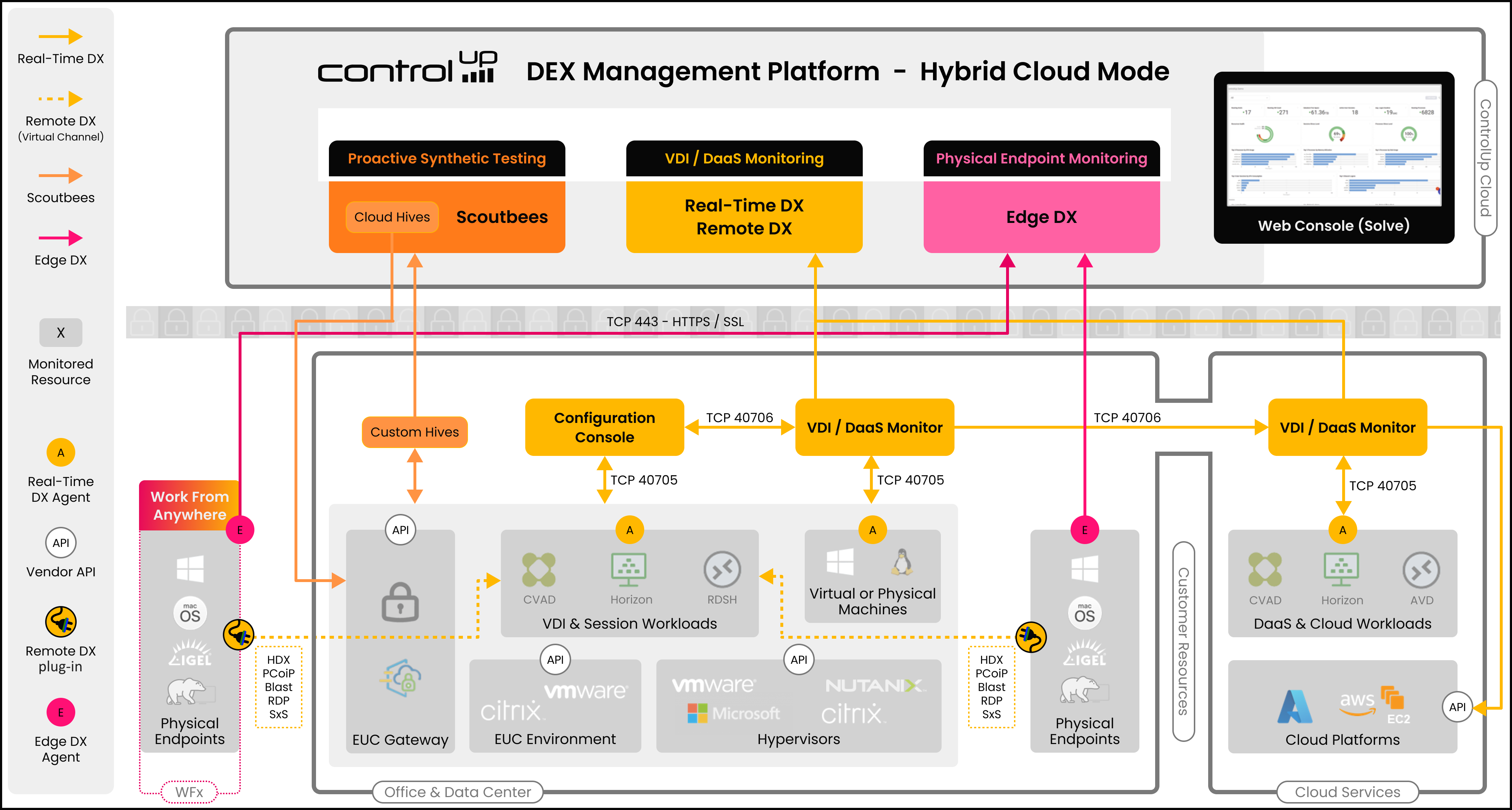 Prerequisites Articles
To install and use ControlUp, make sure to meet the prerequisites explained in each of the following articles:
Component Description and Installation Articles
ControlUp Real-Time Console
The ControlUp Real-Time Console is an application that offers real-time monitoring and altering, remote and real-time management of your end-user environments.
Go to Install and Configure Hybrid Cloud Real-Time Console
Insights
Insights is an analytics and monitoring solution that provides historical data. The web interface shows you real-time and historical-based performance data from your ControlUp environment. The integrated virtual expert offers sizing recommendations for your monitored machines, which makes it easier to better allocate resources in your environment. Our analytics platform collects, stores, indexes, and presents performance logs from any ControlUp resource.
Go to Getting Started with Insights
Solve
Solve is a web-based application that offers new, modern dashboards that visualize the real-time metrics of your environment.
Go to Welcome to Solve
Go to Configure Solve
Edge DX
You can access Edge DX from the Solve interface to manage physical endpoint devices – regardless of where they are located or how they are connected to the internet.
Edge DX allows you to manage devices that run Windows, Mac, Linux (including IGEL and HP thin clients), with features for monitoring, troubleshooting, and remediation.
Go to Welcome to Edge DX
Go to Edge DX Agent Distribution and Installation
Scoutbees
Scoutbees provides synthetic testing to proactively monitor the availability and health of your corporate resources and reduce downtime. It can monitor published resources through an EUC gateway, network resources such as those that can be delivered as a web service, API, or website, and cloud applications such as Microsoft Exchange and Azure AD.
Go to Welcome to Scoutbees
---
Was this article helpful?
---
What's Next