Getting Started with ControlUp Insights
Getting Started with ControlUp Insights
---
ControlUp Insights is an innovative web-based operational intelligence solution for monitoring and analysis of end-user computing environments. ControlUp Insights displays historical reports regarding activity and resource consumption in enterprise information systems, allowing for efficient troubleshooting of system issues, identifying trends, investigating past activity, and receiving other actionable information.
Accessing ControlUp Insights
ControlUp Insights can be accessed using a dedicated button on the Home ribbon of the ControlUp Real-Time Console.

ControlUp Insights is also accessible directly from https://insights.controlup.com . When browsing to this URL manually, the single sign-on mechanism is not activated and a valid ControlUp email and one-time passcode need to be provided.
In order to ensure the security of your data stored in ControlUp Insights, access to the portal is allowed exclusively to the user who first installed and configured ControlUp on your network. To configure user access permissions for your colleagues, click the User Permissions button on the home ribbon in the Real-Time Console.

The Organization Properties dialog box opens which lists all users in your ControlUp organization. If you want to grant a specific user access to Insights, click the checkbox for the user in the Permitted to use ControlUp Insights column.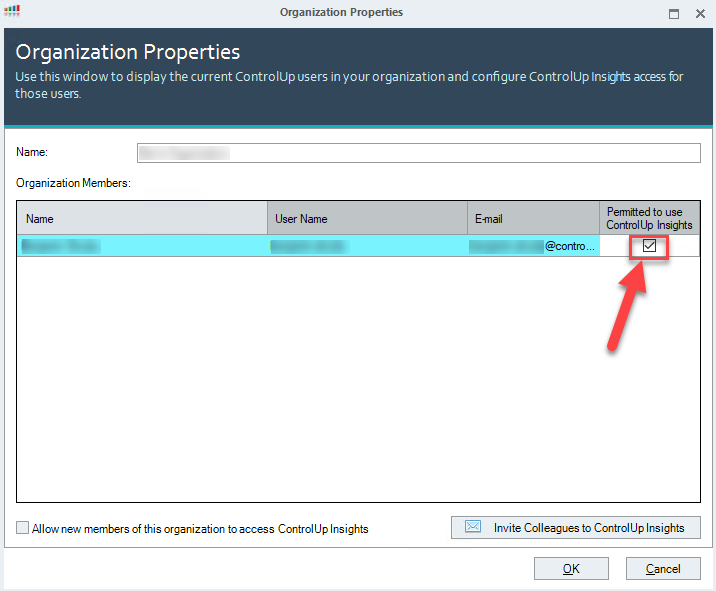 If you want to automatically grant access to Insights for new users in your organization, click the Allow new members of this organization to access ControlUp Insights checkbox.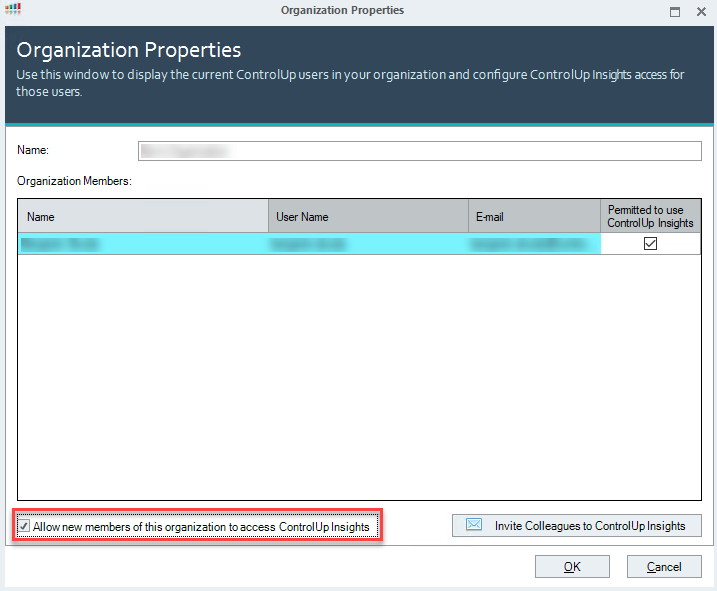 Additional Security Settings for ControlUp Insights
You can enhance the security of ControlUp Insights access for users in your organization by configuring additional security settings. Click on the Access Settings button on the ControlUp Insights ribbon to access those settings: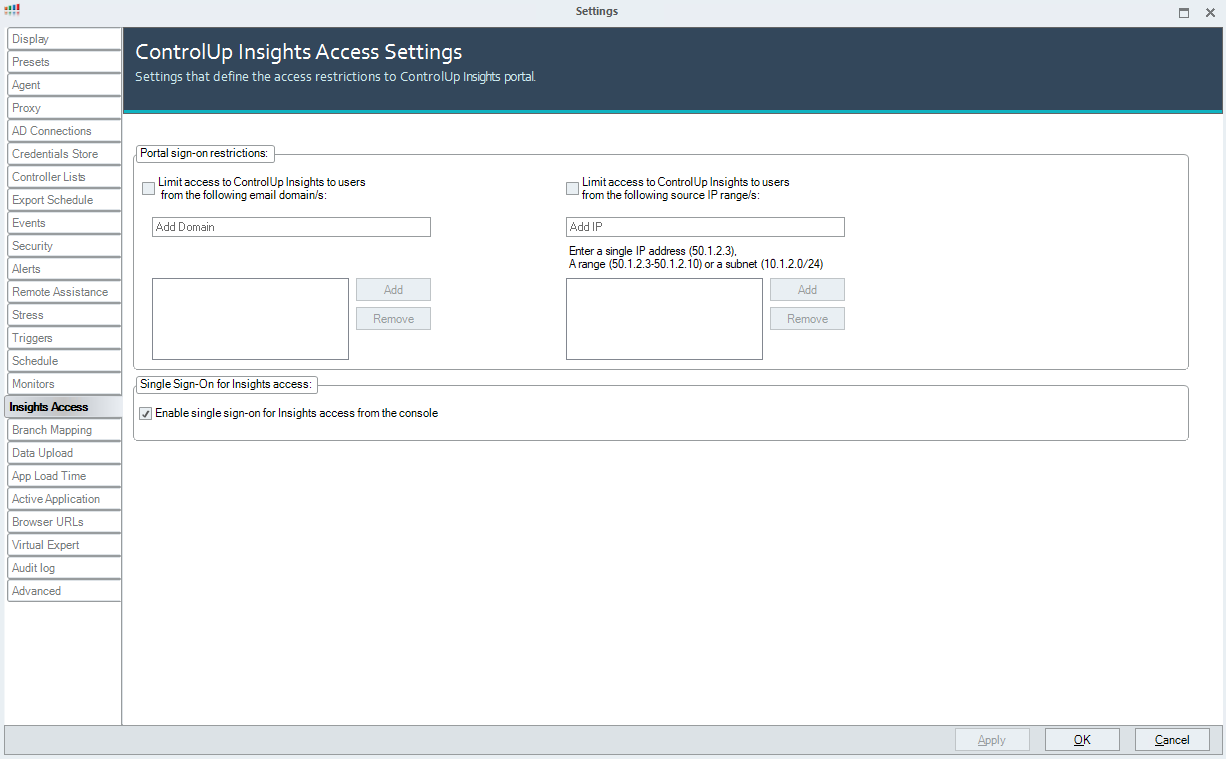 The following security settings are available for configuration:
Email domain restriction – You can provide a list of email domains as an additional form of validation for any ControlUp Insights user in your organization. Since ControlUp requires every user to confirm ownership of the email address by activating their account, you can use this option to ensure that portal access is allowed exclusively for users with a valid organizational email address.
Source IP restriction – You can provide a list of IP addresses or IP address ranges from which your colleagues are expected to access ControlUp Insights. By providing a list of public IP addresses owned by legitimate corporate locations, you reduce the attack surface of ControlUp Insights and ensure that the portal is only accessed from authorized locations.
Single Sign-On – This mechanism is used to leverage your existing ControlUp credentials to sign you on automatically, without the need to provide a username and password. Single Sign-On is activated when the ControlUp Insights button on the Home ribbon is clicked. Leaving this option unchecked forces each user that is authorized for using Insights to enter the registered email address and a one-time passcode (OTP). More information on the Insights login can be found here .
---
Was this article helpful?
---
What's Next