Monitoring Your vSAN via ControlUp
Monitoring Your vSAN via ControlUp
---
A new feature that was introduced with ControlUp v7.3 is the vSAN (virtual SAN) storage integration. You can add and monitor each host in a vSAN cluster which is shown as a single vSAN datastore in the Real-Time Console. In this article, we provide you with all information you need to start monitoring your vSAN environment.
vSAN Integration in the Real-Time Console
You can access your vSAN environment from the Real-Time Console.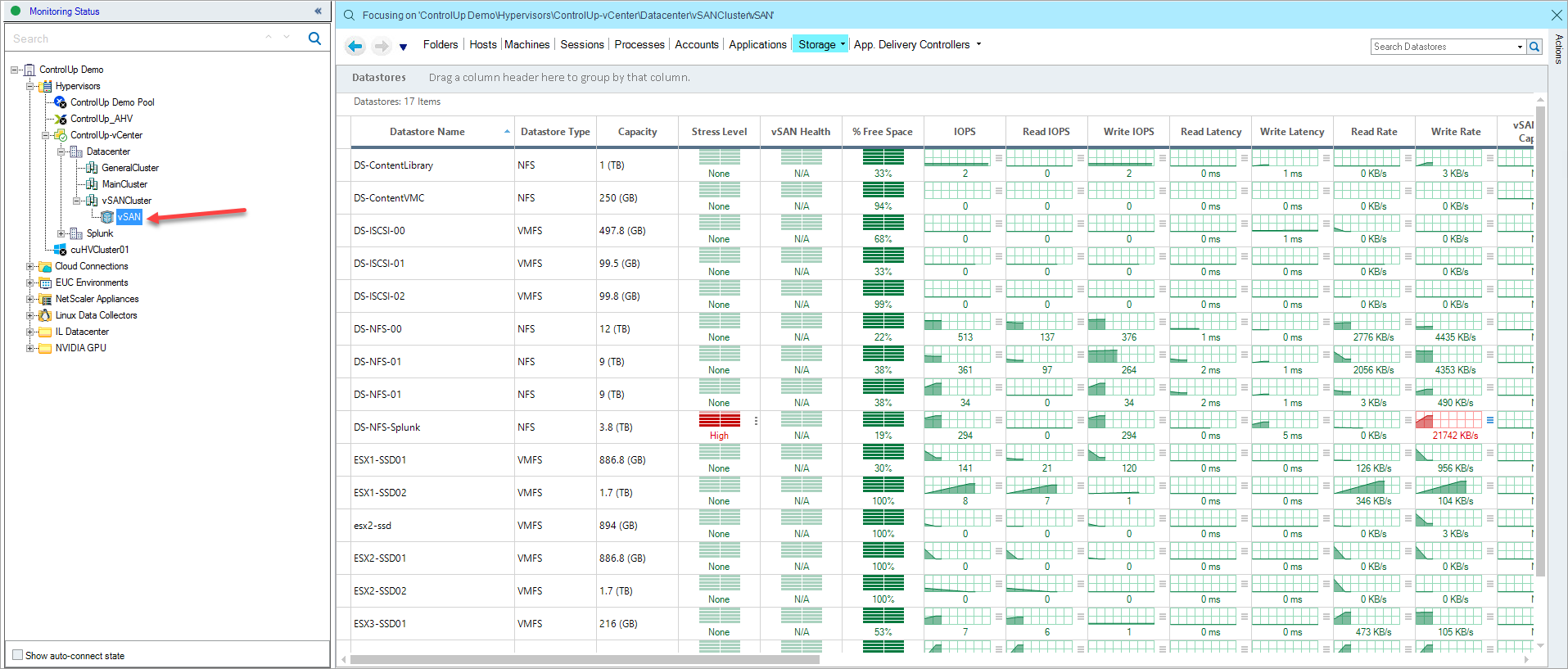 vSAN Integration in Solve
In Solve, you have different options to access your vSAN storage. To view all datastores of connected Hypervisors, click the Datastores button in the navigation tree.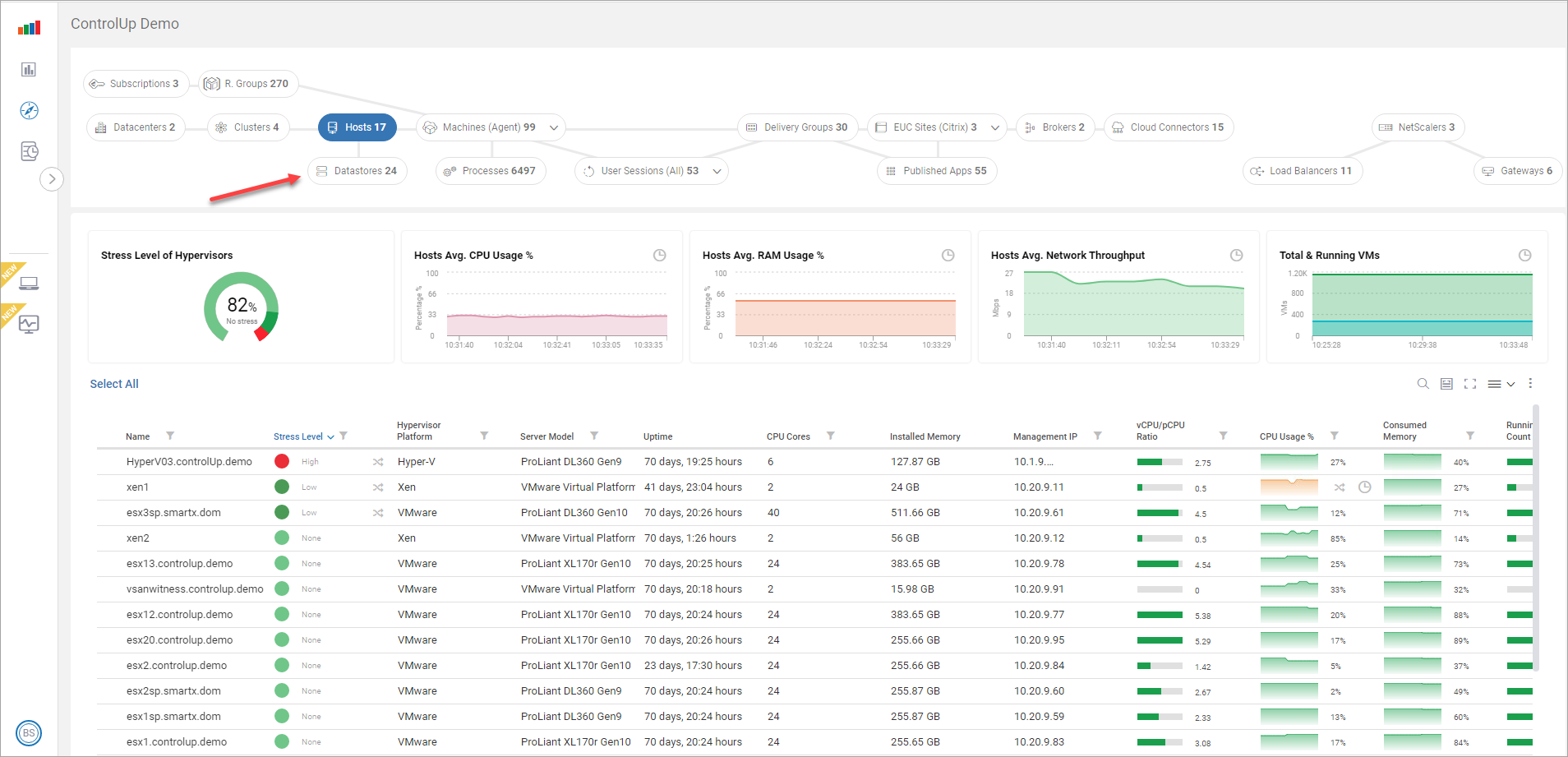 If you want to focus on a specific datastore, click on Clusters and select the relevant vSAN cluster.


When you select a vSAN cluster, more information on that cluster is displayed as shown below.


Prerequisites
We recommend that you use a dedicated data collector for your Hypervisor connection which increases the stability and performance of the ControlUp data collection from your Hypervisor. You can also your console or monitor machine, but this might have a negative impact on performance. How to set up and configure a data collector is described here.
For the data collector:
PowerShell version 5 or higher.
PowerCLI 10.1.1.x or higher.
.NET framework version 4.5 or higher.
For your vCenter user that accesses the vSAN storage:
Performance service should be enabled and turned on inside the vSAN cluster.
The user needs the storage.View permission
The configured user must be allowed to run PowerShell scripts. Check the execution policy on the data collector and make sure that running PowerShell scripts is allowed. You can set the execution policy with the Set-ExecutionPolicy RemoteSigned command.
Adding vSAN to your ControlUp Organization
ControlUp automatically detects your vSAN storage when you first connect your vCenter server to ControlUp. Follow the steps below only if you have not connected your vCenter server to ControlUp.
Open your ControlUp Real-Time Console.
Click Add Hypervisor in the Home Ribbon.
Add your vCenter server and the relevant user credentials. See the to Add Hypervisor article for more information.
Once added to your Real-Time Console, navigate to your vSAN cluster by clicking the Storage tab.

Finding vSAN Information in the Real-Time Console
While focusing on a vSAN cluster, vSAN dedicated presets will be displayed in the relevant views:
Folder view - vSAN Cluster.
Datastores view - vSAN Performance.
Datastore On Host view - vSAN Performance.
Also, we have dedicated columns for vSAN on those presets, if you wish to see the description of those columns, simply hover on top of the column with your cursor and a tooltip will be shown. You can also see the description via the 'Manage Columns' ribbon.
More about the integration & troubleshooting issue in vSAN can be seen in the following video:
---
Was this article helpful?
---
What's Next