Share feedback
Thanks for sharing your feedback!
Introduction
Score columns provide general health information about your machine resources, such as CPU, Memory or Network as well as user experience metrics.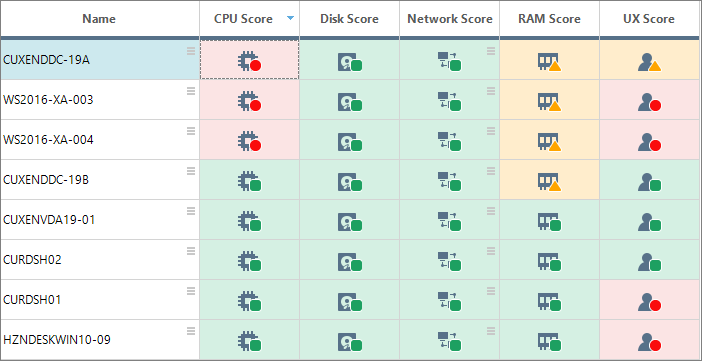 This article outlines all available score columns and their underlying metrics and in which view (tab) you can find the score. If a score is accessible through multiple views, then the metrics within the specific view being analyzed are the only ones that contribute to that score. For instance, the CPU score can be accessed in both the Machines and Hosts view. When analyzing the CPU score in the Hosts view, only the metrics in the Hosts view are taken into account for that score.
Exploring Metrics for a Selected Score
To view additional information about the metrics used to calculate a score, simply double-click on the corresponding score column.

In this case, the Paging File metrics crosses a yellow threshold while the other metrics are green.
You can also choose a score from the column preset. This will filter and display only the metrics that are relevant to the selected score.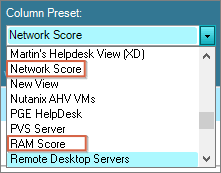 Client Device Score
Note
As the Client Device Score is based on Remote DX metrics, you need to install the Remote DX on the client device
Available in View: Sessions
Client CPU
Internet Latency
ISP Latency
LAN Latency
Total Session Latency
WiFi Signal
CPU Score
Available in View: Machines
AWS CPU Utilization
CPU
CPU Excessive SMP use
CPU Ready
CPU System time
CPU Swap Wait
Host CPU Usage
Processor Queue Length
Available in View: Host
CPU Usage %
vCPU/pCPU Ratio
Disk Score
Available in View: Hosts
Datastore R/W IOPS
Datastore Read latency
Datastore Read Rate
Datastore Write latency
Datastore Write Rate
Disk device latency
Disk kernel latency
Disk Queue Depth
Min Free Space Datastore
Storage Repository total latency
Available in View: Machines
Avg. Disk Read Time
Avg. Disk Write Time
AWS Disk Read Operations
AWS Disk Write Operations
Disk Queue
Disk Reads / sec
Disk Transfers / sec
Disk Writes / sec
Free Space on System Drive
Min Free Space Drive
Virtual Disk Avg. Latency
Virtual Disk Read IOPS
Virtual Disk Read Latency
Virtual Disk Reads KBps
Virtual Disk Write IOPS
Virtual Disk Writes KBps
Virtual Disk Write Latency
Network Score
Available in View: Machines
AWS Network In
AWS Network Out
Dropped Received Packets
Dropped Transmitted Packets
Net Received
Net Sent
Net Total
Available in View: Hosts
NIC dropped received packets
NIC dropped transmitted packets
NIC received packets errors
NIC transmitted packets errors
NIC Usage
RAM Score
Available in View: Machines
Active memory
Dynamic Memory Avg.Pressure
Memory Demand
Memory SwapIn Rate
Memory SwapOut Rate
Memory Utilization
Non - paged Pool Memory
Paging File
Pages / sec
Physical memory used
PVS RAM Cache Usage
Resource Consumption Score
Available in View: Sessions
Bandwidth Avg
Bandwidth Last
Bandwidth Limit
CPU
CVAD HDX Connection Load Time
I/O Read Operations/sec
I/O Write Operations/sec
Latency Avg
Latency Last
Memory (Private Bytes)
Memory (Working Set)
Page Faults /sec
RTT
UX Score
Available in View: Machines
Avg. App Load Time
Avg. Logon Duration
Avg. User Input Delay
CVAD Average Logon Duration
Disk Queue
Max User Input Delay
Non Zero Avg User Input Delay
Non Zero Max User Input Delay
Available in View: Sessions
Avg. App Load Time
Bandwidth Avg
Bandwidth Last
CVAD Authentication Duration
CVAD Brokering Duration
CVAD Group Policy Load Time
CVAD HDX Connection Load Time
CVAD Interactive Session Load Time
CVAD Logon Duration
CVAD Logon Scripts Load Time
CVAD Profile Load Time
Desktop Load Time
Group Policy Load Time
Latency Avg
Latency Last
Logon Duration
Logon Duration - Other
Logon Time
Non Zero User Input Delay
Profile Load Time
RTT
User Input Delay
---
Was this article helpful?
---
What's Next