Deploy Remote DX - Client Metrics Monitoring
Deploy Remote DX - Client Metrics Monitoring
---
ControlUp extends our monitoring capabilities by enabling you to now monitor remote client devices when they are logged into your virtual network. For details about the feature, see Remote DX - Client Metrics.
To enable Remote DX, you deploy the relevant files onto the remote devices based on your environment. The files are available in our Download Center. You can also provide a link to this page to end users to install Remote DX onto their devices.
The Remote DX feature can monitor client metrics for the following operating systems / devices:
Windows
macOS
HP ThinPro
IGEL
Supported VDA platforms are:
VMware Horizon
Citrix Receiver/Workspace App
AVD
Note that native Citrix Workspace clients for Apple M1 and M2 are not supported yet.
Citrix Deployment Best Practices
Refer to this article to see best practice options when deploying for Citrix environments.
And Windows devices connected to AVD. For details, see Azure Integration: Azure Virtual Desktop.
Installation for Windows and macOS devices are detailed below.
For details on deployment with links to the download files, see these relevant articles:
Prerequisites and operating systems
To enable the feature, you must deploy the relevant files onto the client device machines you want to monitor.
For metrics to be monitored from the remote devices, the VMware or Citrix machine to which the device connects must have the ControlUp Agent installed .
The following operation systems are supported for these EUC environments. They include links to the various deployment instructions:
VMware Horizon Client:
Windows 10 and above 64 bit
MacOS 10.13.6 and above
IGEL 11.3 and above
VMware Horizon Client 5.0.0 and above
Citrix Client:
Windows 10 and above 32 & 64 bit
MacOS 10.13.6 and above
IGEL 11.3 and above
AVD Client:
Windows Installation
To install Remote DX on a Windows machine, first download the latest plugin files from our download center. Depending on your EUC deployment, download the Windows plugin for VMware Horizon, Citrix Workspace or AVD clients.
If you want to perform the installation remotely, you can choose from the following options:
/silent - Installation wizard and background window aren't displayed, but the installation progress window is.
/verysilent - Installation wizard, background window, and installation progress window will not be displayed.
Modifying Data Collection for Privacy Settings
Started with version 2.2.2303.14 of the Windows Remote DX plugin, you now have the option to choose whether or not to collect private user data. As part of the installation process, you can select the specific data that you want to collect.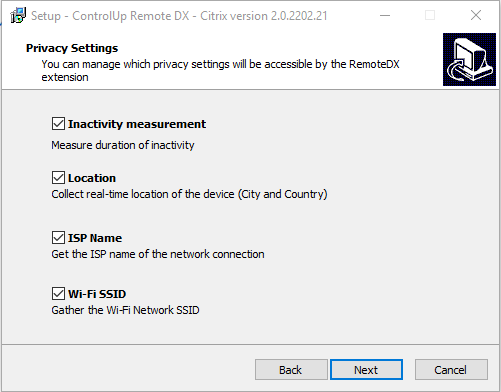 If a checkbox is not selected, it indicates that the Remote DX plugin will not gather the corresponding data.
You can also use the command line installation:
curdx_windows_privacy_citrix.exe /verysilent /privacy=inactivity,location,ispname,wifissid /user=current/all
By specifying the values in the privacy parameter ("/privacy"), you can choose not to collect certain data.
MacOS Installation
Download the package file from our download center
In our ControlUp Downloads Center under either VMware Horizon Client or Citrix Receiver , click the MacOS link to download the .pkg file.
Double-click the downloaded .pkg file to begin the deployment process.
In the Introduction dialog, click Continue .

In the Software License Agreement dialog, click the link to view the license and then click Continue .

Click Agree to accept the ControlUp license agreement.

Optionally click Change Install Location if you want to change the default. Click Install.

Enter the user's credentials and click Install Software.

Click Close.

Once the client device is connected to your EUC environment, you can begin getting monitored information on this device.
---
Was this article helpful?
---
What's Next